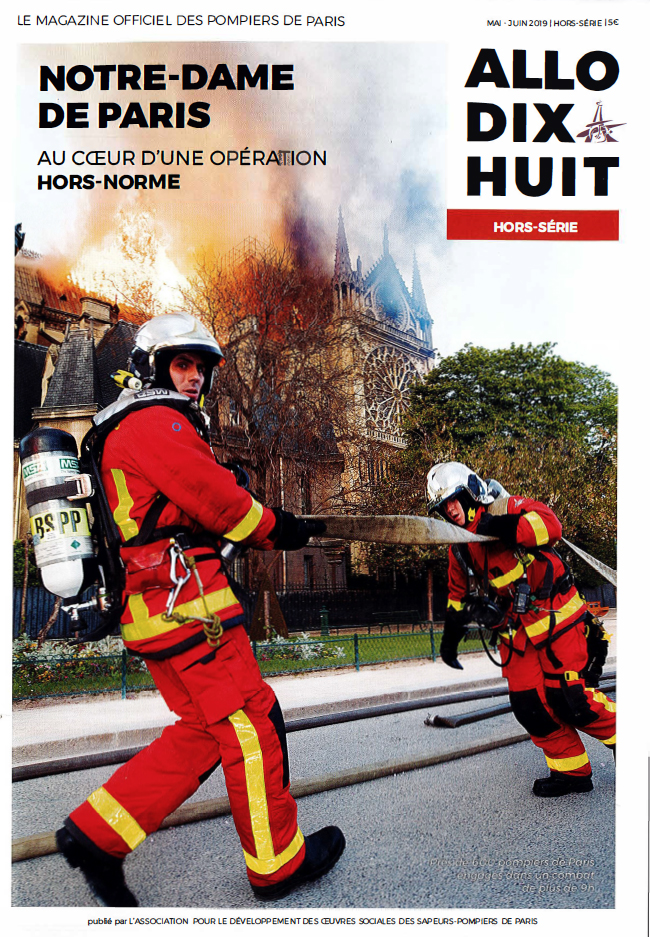 Cover of the magazine Allo dix huit © Allo dix huit Le magazine des pompiers de Paris, hors-série Mai-Juin 2019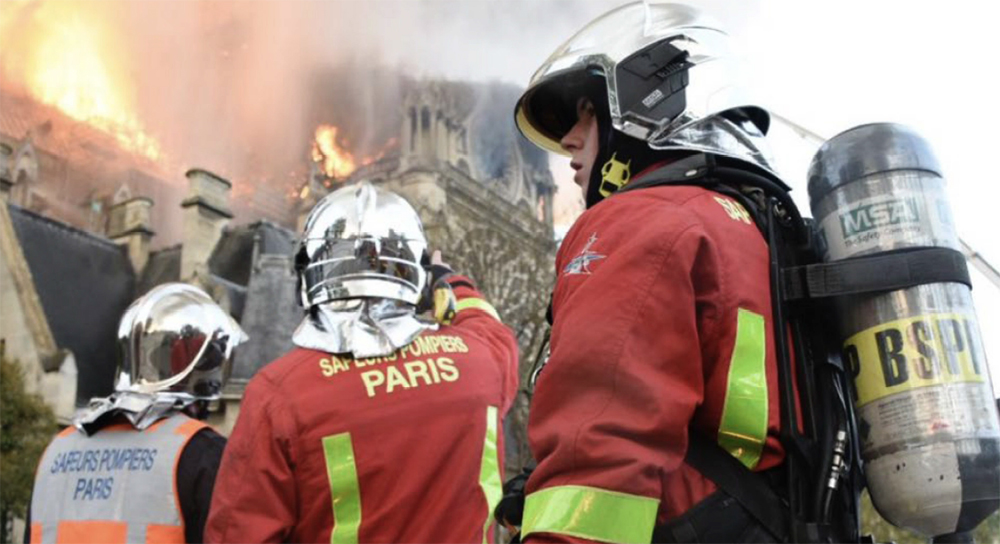 The intervention of the firefighters of Paris © Allo dix huit Le magazine des pompiers de Paris, hors-série Mai-Juin 2019
Jean-François Lagneau
A major program of restoration work had begun on the Cathedral of Notre Dame de Paris, including, among other things, the restoration of its spire. Installation of the scaffolding commenced at the end of 2018.
On 15 April 2019, a fire ravaged the roof of the cathedral.
The fire began at the base of the spire, setting off an alarm at 6:18 p.m. This first alarm, however, was initially misapprehended, and the emergency was not fully acknowledged until half an hour later. The general alarm was triggered at 6:50 p.m.
Numerous photos allow you to follow the rapid evolution of the disaster.
The first firemen arrived at 7:00 pm. They quickly realized that the fire consuming the cathedral's roof spaces was out of control and that they would need to focus efforts on containing it. In particular, they fought successfully against the worrying progression of fire in the belfry of the North tower. By 10:30 p.m., it was declared that the blaze was under control and by 2:00 a.m., the following morning it was finally extinguished.
Approximately 600 firefighters responded to the fire.
Numerous reports have recounted the firefighters' battle during these few hours. Within the cathedral's, these men and women fought the blaze inside the cathedral's labyrinthine Gothic spaces with military precision and exceptional professionalism. A number of points are worth noting:
In addition to the use of aerial drones, firefighters also employed ground drones to position water hoses in dangerous and inaccessible places;
Draftsmen among the fire crews produced sketches that allowed for synthetic views that could be immediately operationalized as opposed to digital ones;
The proximity of the River Seine provided necessary water;
Through regular practice exercises, the fire crews possessed good knowledge of the building and its artistic artifacts.
Regarding the cathedral's works of art, the fire fighters were assisted by the services of the Ministry of Culture, which owns the building, and by personnel of the bishop's palace. Both arrived quickly on the scene. The evacuation of artworks was begun while the firemen battled the fire, and all were taken to safety.